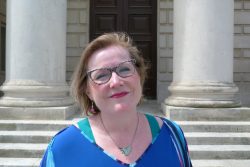 Lorna Fielker is a an ESRC, SCDTP-funded PhD Researcher within the Department of Sociology at the University of Southampton. Her research explores the impact of data protection and privacy regulations on the community and voluntary sector. Lorna is also an elected Labour Councillor at Southampton City Council and the Cabinet Member for Health, Adults and Leisure.
Public First is a consultancy which conducts regular research projects, both qualitative and quantitative, on a wide range of policy issues. They have created long-term economic strategies for cities and regions; devised policy for major government departments and national regulators; policy platforms for winning national election campaigns; and driven the policy agenda for companies and trade bodies in areas of national importance.
Arriving at their offices on my first day as an intern was a bit daunting. Firstly, I was struck by the irony of being an intern, a role generally associated with people in their late teens and early twenties, not a middle-aged woman. Secondly, Public First is a politically led organisation, with a range of views not necessarily reflective of my own, so I questioned: would I fit in? More than this, I was concerned with how I was going to explain to my electorate and party colleagues back in Southampton that I was working for a firm founded by one of the co-authors of the 2019 Conservative election manifesto, which saw many traditional Labour seats turn blue. I took a deep breath and remined myself why I was attracted to this opportunity.
My fundamental ideology is built on Labour values and my vision of fairness in society, but I'm a pragmatist. Just because someone has a different view or supports a different political tradition does not mean their ideas have no merit. I think it is important to hear and understand what others are thinking and use this as a challenge to your own beliefs. I also know that good solutions are found when problems are explored from a range of angles and perspectives. It does not matter how good you think your idea is, if it does not have a broad appeal, or you can't bring people with you on a journey of change, it won't succeed. Only talking to yourself in developing policy or solutions leads to failure. As such, I believed that the mix of political insight at Public First could, and should, lead to innovative research and novel insights on public policy challenges. I was therefore excited to see how this worked in practice.
During my time working with Liv Bailey, director of social policy at Public First and former head of domestic policy for Keir Starmer,  I had the opportunity to get involved in a range of projects. I have helped a charity develop a commercial sponsorship strategy for a national campaign, through research and facilitated discussion, to mark the 75th anniversary of the arrival of the ship HMT Empire Windrush at Tilbury docks. I co-authored a report on the general public perceptions of brain injury for a national charity and contributed to the creation of a Citizens Panel for the Greater Manchester Civic University Board. The panel consists of 50 residents from across the Greater Manchester area, who come together to learn about, deliberate upon, and make recommendations to the Civic Universities Board in relation to a particular issue or set of issues. The first meeting, held on the 5th November 2022, focussed on growth and what that means to people who live in Greater Manchester and how the combined efforts of the universities can ensure that growth in the region benefits all.
I have really enjoyed the rapid pace of the research I undertook for these projects. It was very different from working on a PhD or Master's dissertation, but those skills I have from the academic world adapted well to this different style. I take back to the academic world the challenge that good research is taking place outside of universities.
I experienced the other side of public sector procurement having helped bring together a large amount of information for a tender. In doing this I reflected on how that process may be a barrier to smaller organisations to bid for work, leaving the usual big players to hoover up contracts. The tender application required extensive information regarding the experience and expertise which Public First bring to the project; their track record of delivery; biographies of the team completing the work; project design and methods, why those methods were chosen; data security and risk mitigations; ethical considerations; and Public First's Diversity Policy.
I am taking back learning from that to have conversations with commissioners at Southampton City Council to make sure we get the balance right, particularly in procuring services from the voluntary sector.
Another piece of learning for me came through a piece of ethnographic work completed in Stoke. This was rich research, and I can see how an outsider immersing themselves in a community for a period of time can gain different data to that garnered through alternative research models; gaining new insights and therefore new ideas. This approach is particularly suited to those working on wicked problems in the health and environment policy areas, in which traditional methods of gaining understanding and coming up with solutions to influence behaviour change have failed. In Southampton, health outcomes are poorer than other areas of the southeast and the city's characteristics relating to poverty and deprivation present challenges. Good work has been done by the Public Health team to understand the benefits of thorough community engagement, such as surveys and drop in events, the use of local authority and health data. However, health inequalities remain and in some areas widened. Utilising an ethnographic approach could enable the Local Authority to speak to people who would not usually participate in the usual types engagement that are commonly used.
So, what of Public First? does the eclectic mix of political views lead to better public opinion research and therefore better insights? From what I have observed, the answer is yes. There is plenty of space for meaningful political challenge to develop research pieces that can be meaningfully used by clients to influence public policy, and help clients understand how to navigate current and future governments to do that. There is also a strong sense of team, which feels slightly odd in a space where people have quite different views. This respect for people as individuals regardless of political ideology, and willingness to engage in challenging personal political beliefs and using this to inform the work is a strength of this agency. This approach requires high levels of trust between colleagues and a hierarchal structure which encourages opinion from more junior members of staff with opposing views to the directors.
When it comes to setting policy at local government level there is a role for similar cross-party working. In Southampton, the City of Culture Bid had full support from both administration and opposition and the shadow spokesperson person for health is involved in the early development of policy. However, in other areas, such as transport, it is unlikely that any level of cross-party work would overcome the inherent differences in our solutions to providing alterative sustainable travel options to reduce dependence on car travel. That said, retuning to my original point when formulating public policy, the subject should be explored from a range of angles and perspectives to ensure the policy is sound.
I've really enjoyed this internship, I met interesting people and had interesting conversations. Have these conversations shifted my politics? No. But the experience reminded me of the benefits of cross-party working on some issues. It's given me insight into this world of work and confirmed what I thought, it is exactly what I want to do when I complete my research project. I'm really grateful to have been given the opportunity.