Author: William Chan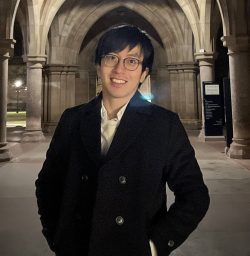 Bio:
Dr William Chan was an ESRC Postdoctoral Fellow at the University of Southampton from October 2022 to September 2023. He specialises in (a) the intersections between Western normative political theory and Chinese politics, and (b) the political morality of technology. He has recently joined the Leverhulme Centre for the Future of Intelligence at the University of Cambridge as a Teaching Fellow.
---
Introduction
On 16th September, I concluded my time at the University of Southampton as an ESRC Postdoctoral Fellow with the Justice and Social Media Workshop. The generous research funding offered by ESRC made it possible for me to invite speakers inside and outside of the UK. In this year alone, I organised three workshops and attended two other major conferences in political theory. This is really a key year for my career development, as I was offered considerable resources to organise and take part in various activities of dissemination. Here are my reflections on this fruitful year.
---
What's the worth of being an ESRC postdoc?
There are three major benefits of being an ESRC postdoc:
it gives you considerable time, resources and opportunities to design your own research activities,
the fellowship is prestigious and it'll be very helpful for your applications to other academic positions in future, and
you have an opportunity to develop a close relationship with your mentor(s), who will support your career during or even after your fellowship period.
In fact, the process of applying to the fellowship alone is incredibly valuable. Most of us, as early career researchers, rarely have the chance to write funding proposals for people beyond our specialisms. However, since our application to the ESRC postdoctoral fellowship is assessed by a diverse group of social scientists, as I wrote my proposal, I had to try my best to justify the promise of my research to those outside of my field. This process is very beneficial for my capacity to write plain but appealing proposals. I also developed a much better understanding of the structure of ESRC and the other opportunities it provides. I strongly recommend anyone to apply for the fellowship—whether your application will be successful or not, the efforts you invest in preparing for the materials will be very much transferable to your applications for other funding and research-intensive positions.
What was my favourite part of the fellowship?
My favourite part was the visit to the Cumberland Lodge—its colonial history and beautiful interiors and surroundings make it a very special place.
What suggestion would I give, with a one-year fellowship experience?
Although different doctoral training partnerships in the UK have different structures and priorities, it is a shame that I did not have an opportunity to connect with people from the other DTPs. I have a suggestion, however. If there is a way to reach out to all current ESRC PhDs and postdocs, or even all those previously affiliated with the ESRC, I suggest that an online platform be created (on Slack, Teams, for example) for people to establish their own research groups. People can also join whatever research groups they find useful there. There are two advantages of this proposal. First, it gives current ESRC PhDs and postdocs from different DTPs opportunities to connect with each other for collaborative research and activities. Second, it keeps different generations of ESRC graduates and postdocs connected. This is especially important because I have observed a lack of connections between graduated and current ESRC affiliates, but such a platform can make ESRC PhDs, postdocs and graduates known to each other and create a culture of mutual support. I am uncertain whether this will be feasible, all things considered, but given that we have many sophisticated online platforms for collaboration today, this is a promising option to consider, I think.
What suggestions would I give to political theorists interested in applying to this fellowship?
It seems to me that the fellowship is very demanding on applicants' ability to maximise the impact of their research. Political theorists (including myself) are usually immersed into conceptual analysis and interested more in our contributions to the theoretical debate, but this sometimes diverts our attention away from explaining why our research is relevant to a range of people. Thinking more about how to maximise impact would be helpful for your application, in my view.