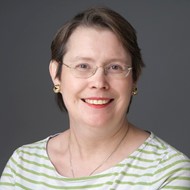 Anne Heal spent much of her executive career at BT where she focussed on strategy and regulation. She also led (and refocussed) BT's employee volunteering programme, helping more than 25,000 BT employees become active volunteers. Since she left BT, Anne has been able to be involved in a number of charities, including chairing Volunteering Matters, which supports high social impact volunteering; working with Diabetes UK on their governance; being Vice-Chair at a UTC (academy school) focussing on engineering and technology; and as a trustee of Balletboyz, a small but globally recognised ballet company. Anne has just finished her Msc in Social Research Methods, and is now beginning her PhD at the University of Southampton in Politics and International Relations, on the subject of volunteerism.
While volunteering had its few minutes of fame during the Covid-19 pandemic, millions of Britons were already committed volunteers pre-Covid, and many will continue to volunteer as the various Covid volunteering programmes wind down. However, the response to the Government's and NHS's request for volunteers to tackle the pandemic was nothing short of phenomenal, with more than 500,000 signing up to offer generalised support within 24 hours (Murphy, 2020), and around 750,000 within 4 days (NHS England, 2020) – against a stated target of 250,000. This success was repeated as the vaccination programme began to be rolled out, with 27,000 rapidly deployed vaccinators giving almost a million hours of their time (St. John's Ambulance 2021).
My research looks at how volunteers responded to Government and major charity calls to action during the various phases of the pandemic; it aims to understand what the various types of volunteers felt about their experience, including how they were trained and managed, and whether they intend to continue volunteering post-pandemic. I am especially (but not exclusively) interested in whether those who were new to volunteering will be continuing with what they started. The outcomes of the research should be able to be used by charities to help understand how best to recruit and manage volunteers, especially during times of crisis.
While it is early days in my study, it is clear that, as well as a general desire to support the nation (and specifically the NHS) at a time of unprecedented challenge, volunteers quickly came to see there were very real benefits for them as individuals too. In many cases they were happy to express and share their experience to encourage potential volunteers, usually through social media. Indeed, volunteer testimony (NHS Volunteer Responder) and mini-case studies became an important part of the recruitment process.
This benefit to the volunteers – described as "a two-way street" by one volunteer, who felt a real sense of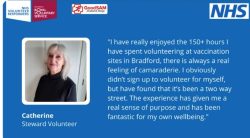 purpose and positive impacts on her own wellbeing[1] – is far from new news, although there is now some Covid-19 related research which also strongly supports it. Dolan et al. (2021) 'Happy to help' suggests that in a survey of more than 9,000 participants even small acts of Covid-19-driven volunteering increased volunteers' sense of wellbeing (and also of belonging). This survey – in contrast to much previous work – attempted to demonstrate a causal effect rather than just a correlational one, comparing those who actually volunteered with those who did not actually participate but originally signed up to do so. The findings suggest that there is indeed a link. There are many suggestions including those of Borgonovi (2008) as to why there could be a connection between volunteering and wellbeing, including satisfaction with what one has rather than dissatisfaction with what one lacks, which may well have been particularly highlighted during Covid. However, 'Happy to Help' suggests it is important to look more deeply at how volunteers' contribution is acknowledged, which is one aspect of communications with volunteers I intend to address in my work.
Given that volunteering seems to have at worst an anecdotal and at best a causally demonstrated impact on wellbeing, you might well want to consider volunteering yourself.
Deciding where to start is probably the tricky bit. You don't need to make a regular commitment, but you might want to. At the University of Southampton, for example, the Careers and employability area of the Student Hub offers a good range of opportunities. There is always the opportunity to volunteer at aparkrun, which takes probably an hour or so a week – when you want to – and gets you out and about on a Saturday morning. And you can always walk, you don't need to run!
Or, if you are feeling you want to do something on a more committed basis, you could consider becoming a trustee of a charity. It doesn't take much time and meetings are often held in the evenings. Good trustee boards are always looking to make sure their boards are as diverse as possible, so they are keen to get younger people and others with lived experience involved, not least because in many cases a typical charity board is far from representative of the people it is trying to support. Right now the average age of a trustee is between 60 and 62 and men outnumber women 2 to 1, so there is plenty of opportunity. If you find a charity which is important to you, you have a real chance to make a difference and you should be able to get training to help you. Becoming a school governor is another worthwhile and important role which really makes a difference in the local community.
If you are already volunteering, can I say a big "thank you!" We have heard a lot about volunteers during the Covid-19 pandemic, but back in 2019, in pre-Covid times, around 19 million people volunteered – in England – (Department for Digital, Culture, Media & Sport, 2021) in all kinds of ways, quietly making things better for others, and sometimes not even realising they were volunteering. Volunteers keep things ticking over, doing things that wouldn't get done without them. I'm pleased that through my research I will have the chance to help future volunteers get the best possible experience so they are able to make the most difference that they can.
References
Borgonovi, F. (2008). Doing well by doing good. The relationship between formal volunteering and self-reported health and happiness. Social Science & Medicine, 66, 2321-2334.
Dolan, P., Krekel, C., Shreedhar, G., Lee, H., Marshall, C. & Smith, A. (2021). Happy to help: The welfare effects of a nationwide micro-volunteering programme. Centre for Economic Performance
HM Government – Department for Digital, Culture, Media & Sport (2021). Official Statistics – Volunteering and Charitable Giving Community Life Survey 2020/21
Murphy, S. (2020). More than 500,000 people sign up to be NHS volunteers. The Guardian 25 March 2020.
NHS England (2020). NHS volunteer responders: 250,000 target smashed with three quarters of a million committing to volunteer. NHS press release
NHS Volunteer Responder (@NHSVolResponder). (2021) "It has been emotional at times as some of the people I speak to are completely alone with no-one else to talk to. They're so grateful to chat and I get some lovely feedback". Twitter 07/08/2021 3.00pm.
NHS Volunteer Responder (@NHSVolResponder). (2021) "Sabrina is a registered mental health nurse who used to work for the NHS and knew she could help as a Check in and Chat volunteer. If you have a busy schedule but still want to help, this could be the perfect role for you".  Twitter 20/08/2021 4.00pm.
NHS Volunteer Responder (@NHSVolResponder).  (2021).  "Catherine, a retired NHS nurse, volunteers as an NHS Volunteer Responder Steward to support the vaccine rollout in her local community in Bradford. Join Catherine and thousands of others by signing up as a Steward Volunteer today" Twitter 02/09/2021 5.01pm
St John Ambulance (2021). Ask us how we saved lives in 2021. St John Ambulance impact report.
[1] @ "Catherine, a retired NHS nurse, volunteers as an NHS Volunteer Responder Steward to support the vaccine rollout in her local community in Bradford. Join Catherine and thousands of others by signing up as a Steward Volunteer today" Twitter 02/09/2021 5.01pm